When selecting your footage you'll want to take the orientation into consideration. Magisto automatically sets your video's orientation based on the majority of your photos and video clips (51% of your footage). A landscape video will be created if 51% of your selected raw footage is landscape.
You can upload and include media with the following methods:
1. Uploading from "My media"
You can filter your footage by tapping on the arrow beside "All Photos" to upload footage from your camera roll.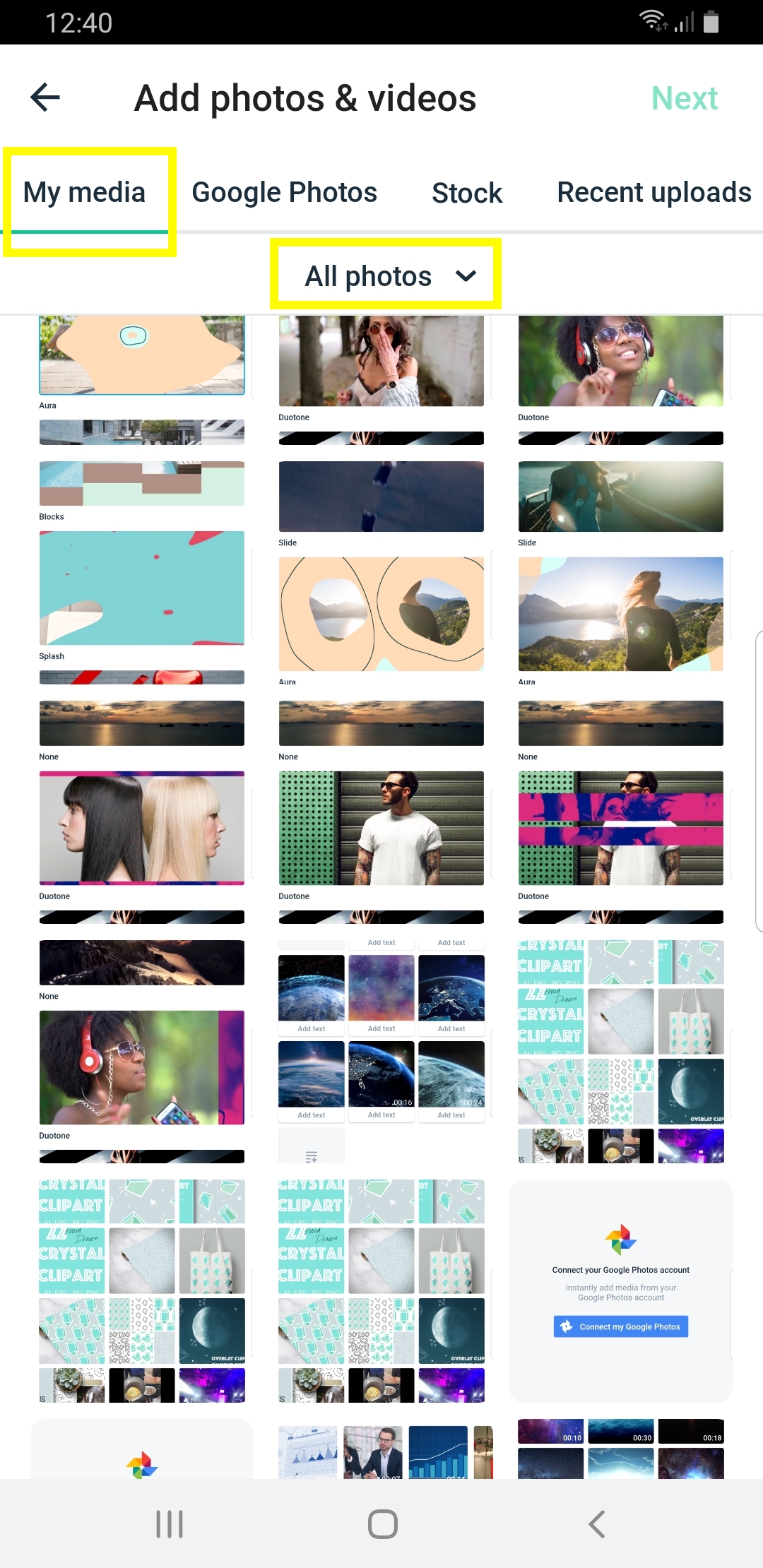 2. Selecting media from our stock library
(Available for Professional and Business subscribers)
To access our stock media database tap on "Stock" in the menu bar.
Select between "Videos" or "Photos" () to the right of the Search box. Our stock library offers more than 3 million video clips and over 25 million photos!
Enter any term into the Search box to easily filter through the stock library.
Tap and hold on the video to preview and similarly to videos, tap and hold over photos to enlarge the photo.
If you would like to include a result in your video, just tap on the footage and it will automatically be added to your story. You can preview the footage you've chosen at the bottom of the screen.
Tap "Next" at the top right hand side to go to the next step.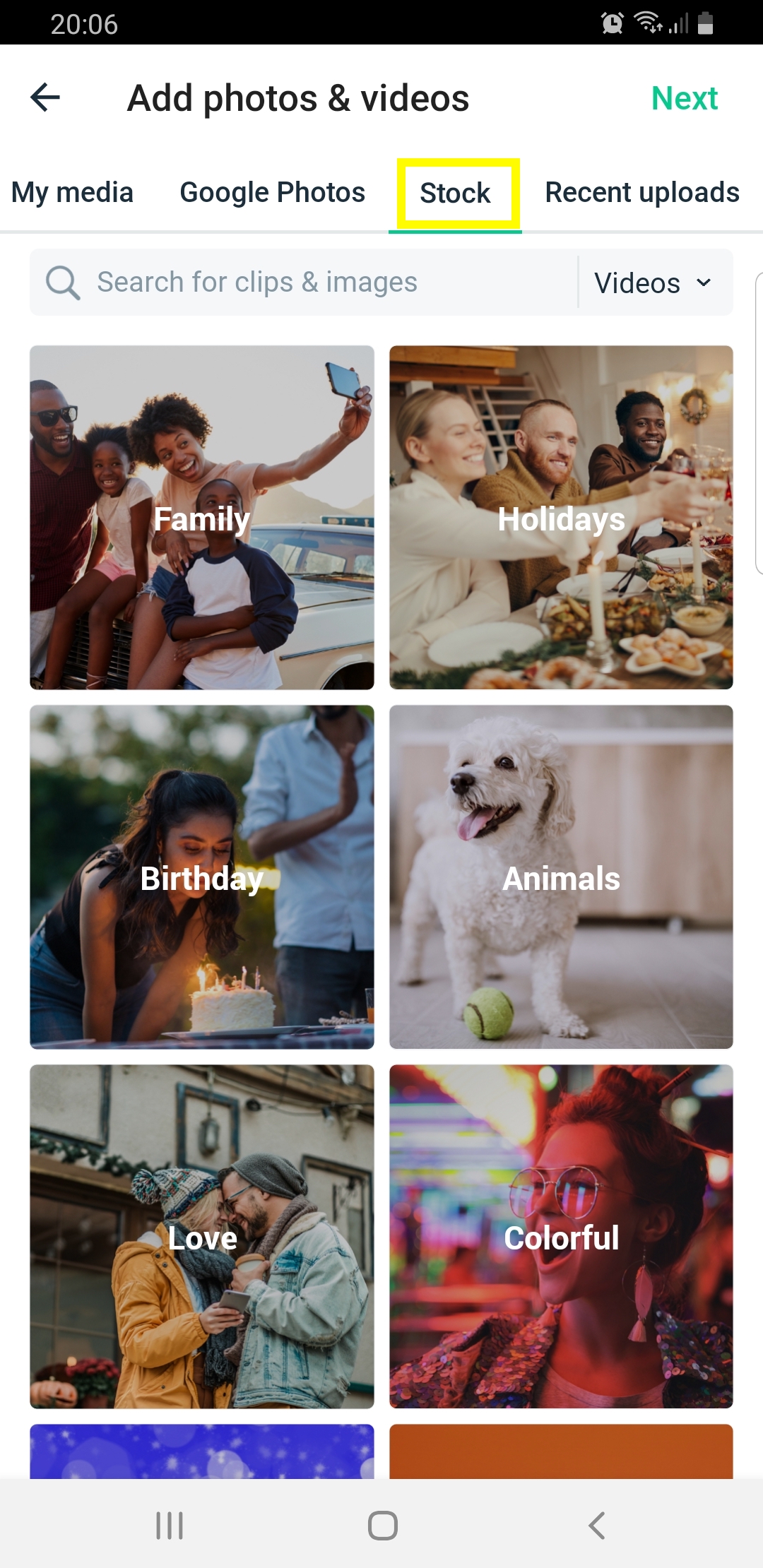 3. Uploading media from Google Photos
Tap on "Google Photos" in the menu at the top of your screen.
Tap on "Connect your Google Photos account" to access your Google Photos library.
Log into your Google Photos account and grant the required permissions to allow Magisto to access your files.
Once access has been granted, you should be able to see the photos and videos stored in your Google Photos account.
Tap on the footage you would like to add and tap on "Next" to go to the next step.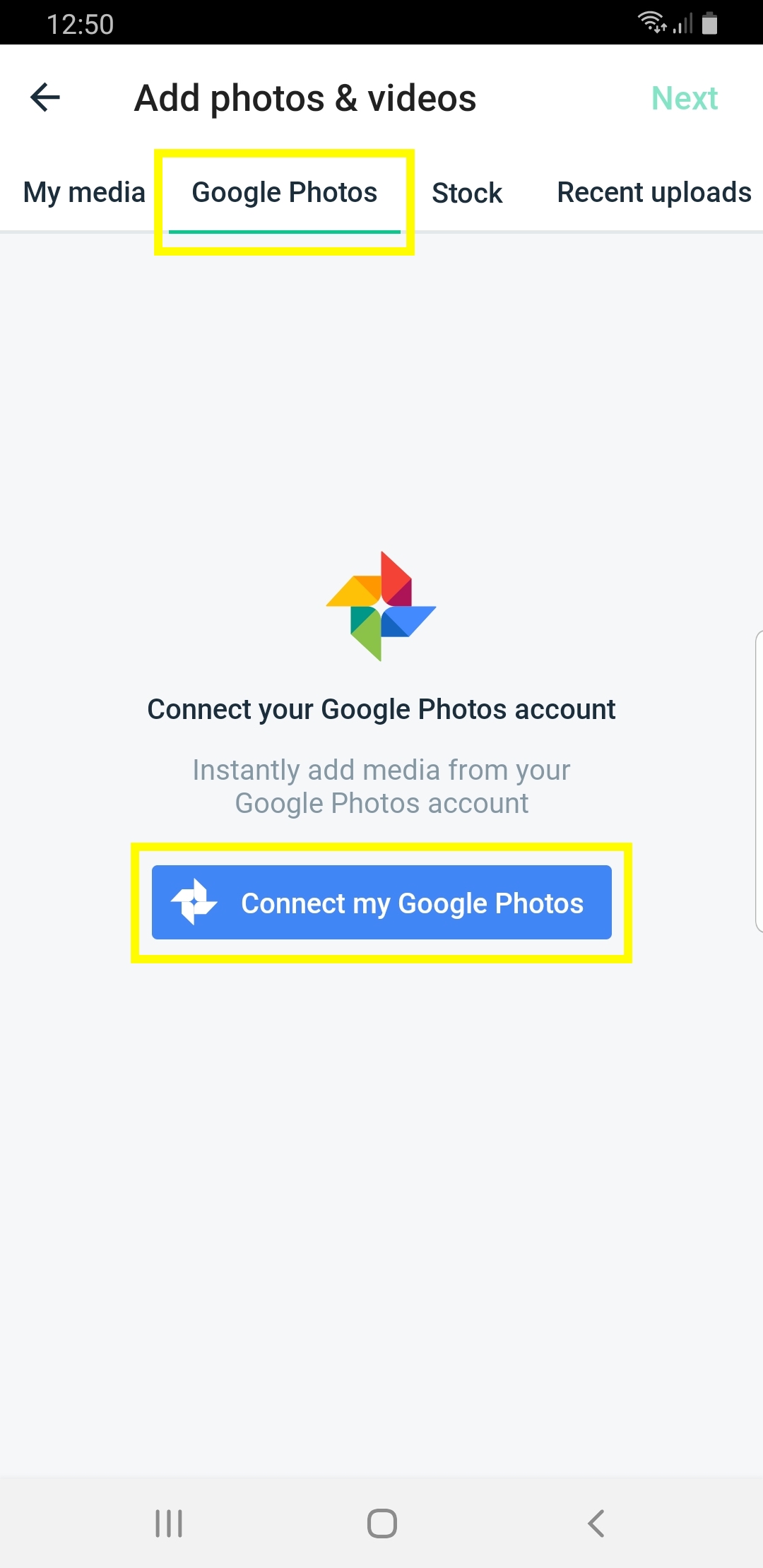 * For files uploaded to Google Photos, there is a 'delay' time which if the clip has not been fully processed and is used will result in a lower quality image. Google Photos will require some time to fully process uploaded videos. Longer videos will take more time to completely process and analyze.
4. Selecting media from your Recent Uploads
(Available for Premium, Professional and Business subscribers)
Recent uploads is your personal media library, and includes all your previously used photos and videos.
Tap on "Recent uploads" in the menu to open the library.
Locate and select the footage you wish to use in your new video.
You also have the ability to filter between "Type" of media (Photos or videos) and "All Ratio" (Portrait, Landscape or Square).
Tap on the footage you would like to use.
You can preview the footage you've selected at the bottom of the screen.
Once finished selecting all footage, tap on "Next" to go to the next step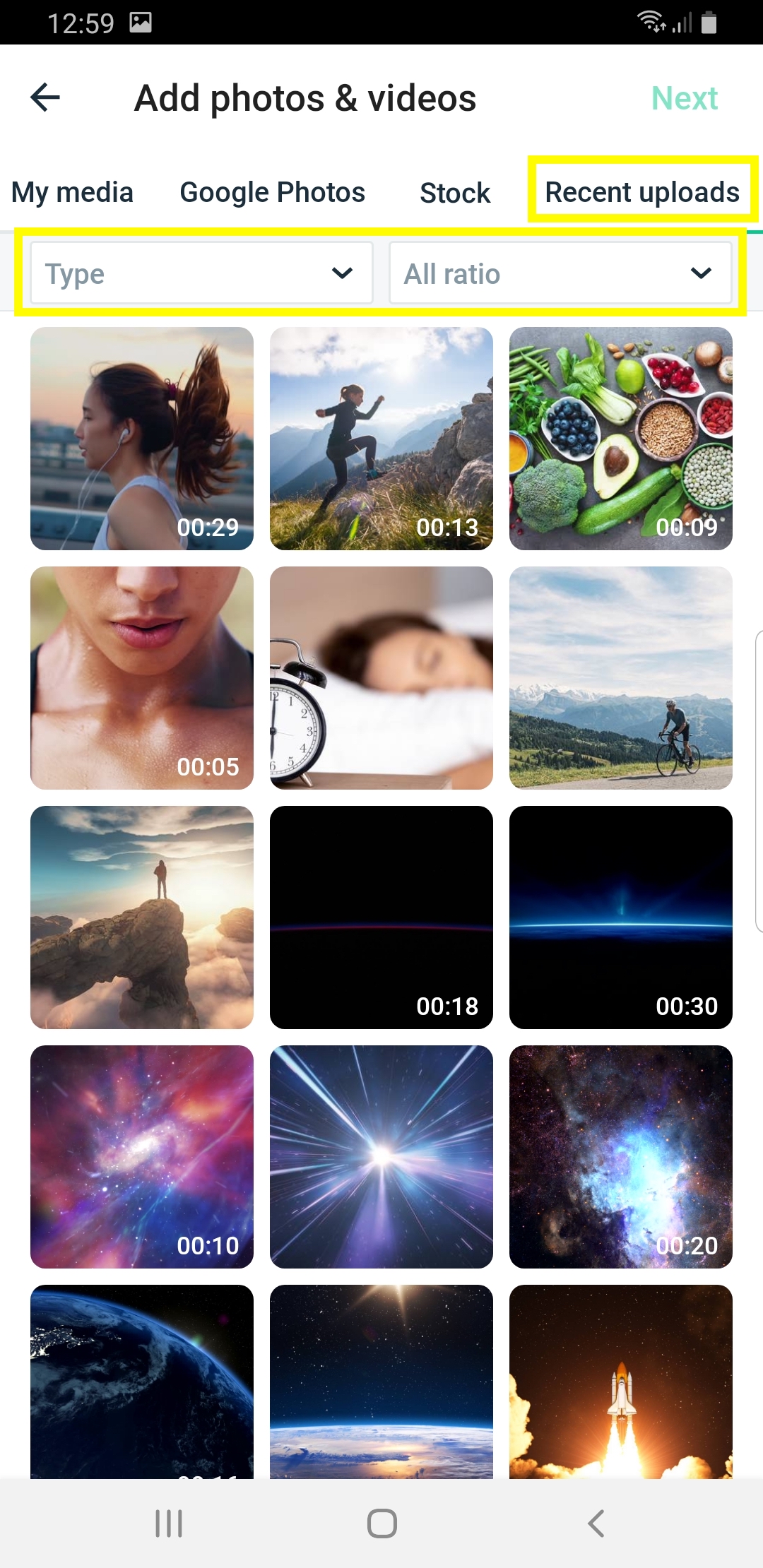 *Note*
Magisto supports all formats that are "natively" supported by iOS, Android and Windows OS:
Photo file types: JPG, JPEG, GIF, BMP, PNG
Video file types: 3GP, AVI, MOV, MP4, MPG, MTS, M2TS
Tap on "Next" to go to your Story where you'll be able to reorder your footage, add text, choose your brand colors, your video's ratio and video's duration.
Were you looking for our iOS or Web instructions?
How do I select my footage? (iOS)